Meet Our Managers
Our team is dedicated to providing the best customer service avalible, ensuring that you find the product you're looking for from start to finish.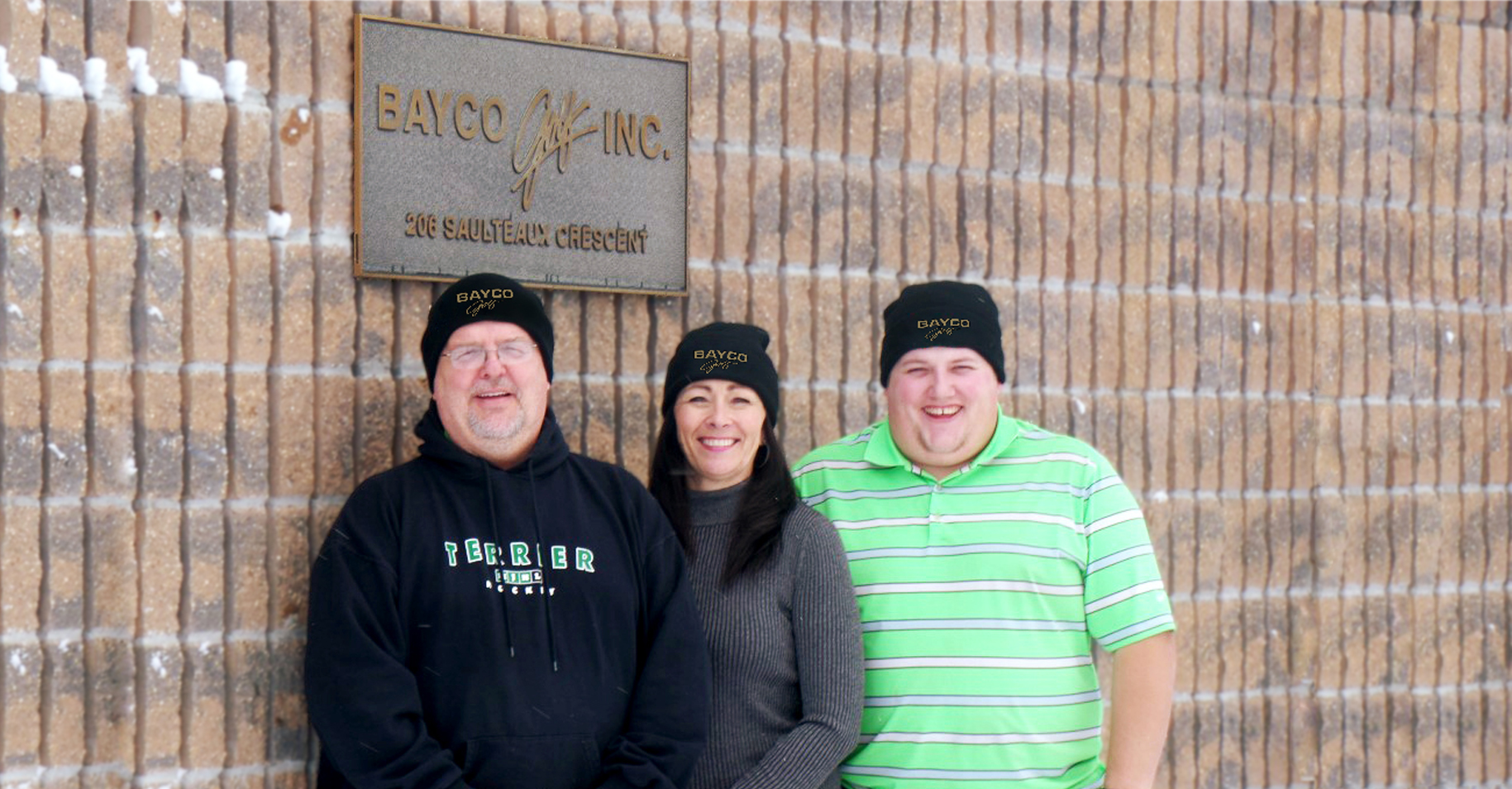 Cal Surgenor
General Manager
Cal Surgenor is the General Manager at Bayco Golf. He took over in 2006 after OSC Seeds purchased the company from Alex Colonelo. He has a background in sales and is passionate about golf which made him the perfect candidate. Cal is very personable and loves to help out fellow golfers with anything golf related.
Shelley Drul
Customer Service Manager
Shelley Drul is the Customer Service Manager at Bayco Golf. She deals with most customer affairs and specializes in the customizable products, like flags, signs, decals, and more. She has been with the company since 2004 and has made deep connections with all of our customers and distributors. She is friendly, easy going, and resourceful, ready to help with any purchase or inquiry.
Andrew Hunt
Operations Manager
Andrew Hunt is the Operations Manager at Bayco Golf. He manages overall operations and is responsible for the effective and successful management of labor and productivity. He is a golfer himself and has experience both as a golf player and an employee at a golf course. He knows the ins and outs of the golf business and products and has Golf Pro experience. In short, he lives and breathes golf.
FREQUENTLY ASKED QUESTIONS
Q: How long have you been in business?
A: Our product line started in 1986 by our founder, Alex Colonelo.
Q: Why are you different than your competitors?
A: Bayco Golf is one of the biggest manufacturers/suppliers of golf course accessories in North America. Our team's extensive knowledge, experience, and love for golf ensures finest product selection and exceptional customer service. We aim to create meaningful relationships with our clients that last a lifetime and know that you will be satisfied with your purchase.
Q: Where do you operate from?
A: Bayco Golf's head office is located in Winnipeg, Canada.
Q: I am located outside of Canada, do you ship internationally?
A: Absolutely! Bayco Golf can ship anywhere in the world so long as there is a way for your items to get there.
Q: Do you sell directly to golf courses?
A: Bayco Golf sells to golf courses through our distributors. Please contact us to find a distributor near you.
Q: Can I purchase directly through your website?
A: Bayco Golf does not process transactions online. Please choose your items and fill out the 'Request a Quote' form; one of our team members will be in touch with you. We will provide pricing on items and shipping and walk you through the order process.
Q: What custom items do you offer?
A: Some of the custom items we offer include:
– Custom Dye Sublimated Flags (double or single sided)
– Custom Ball Washers and Ensembles
– Custom Bronze, Aluminum, and Recycled Plastic Signage and Easels
– Custom Color on Many Items (minimum order applies, please contact us for more information)
– Custom Tee Markers
– Custom Recycled Plastic Rope Stakes
– Custom Striping on Poles and Smart Sticks
Q: How do I go about ordering something custom?
A: You can go to the product you wish to customize, add it to a quote and complete the 'Request a Quote' form; you can contact us by going to the 'Contact Us' page; or you can e-mail us or call us directly. One of our representatives would be happy to help you with your order and any questions you may have.
Q: What is Dye Sublimation Printing?
A: Dye Sublimation is a printing process which reproduces graphics and images into various flexible and rigid substrates – in our case, fabric. Using a combination of high heat and pressure, solid dyes are absorbed directly into the fabric, creating many advantages over traditional screen-printed graphics.
Q: How are your flags made?
A: Once a design is approved, the graphic files are fitted onto our template files. Those files are printed and then sublimated into the fabric. The fabric portion with dye is cut out and passed on to our sewing and finishing department. After finishing, the products are cleaned, checked and are packaged for shipping.
Q: What format should my artwork be in?
A: Please ensure that your artwork files are of good quality, preferably vector (.ai or .eps). Raster images, such as JPEG and PNG can be submitted but extra charges may apply should we need to re-draw them in a vector format. If you are unsure of what files you currently have, please contact us and we can assess them for you.
Q: How long does it take for flags to be completed?
A: Once we send you the proofs and they are approved by you, it typically takes 2-3 weeks for them to be printed (on a first come, first serve basis). Shipping (depending on location) can take additional 3-7 business days in North America. Please contact us for a more accurate timeline for your specific project.
Q: What fabric choices do you offer?
A: We offer the following for custom flags:
– Poplin Flags – Our poplin flags are great for heavy graphics
and double sided flags because it uses an optional blocker to
prevent see-through from front to back.
Note: It is the heaviest option especially if the blocker is
added. This fabric needs wind to move.
– Dura Flags – Very stable fabric that is porous and allows wind
to move through it. It has 95% transparency which makes it
perfect for single sided flags.
– Poly Silk Flutter – This fabric is recommended for events as it
flutters even in low breeze settings. It has 98% transparency
and is very lightweight, perfect for single sided flags.
Q: How is vector different than raster??
A: Simply put, raster images are created by pixels and their quality depends on the DPI (dots per inch) or PPI (pixels per inch). The lower the DPI, the more "pixelated" it looks. Raster image files include .jpeg, .png, and .tiff formats.
Vector images are made up of paths with mathematical formulas telling the path what color or shape it needs to be. Thus, vector images retain their appearance regardless of size and can be scaled infinitely. Although vector files are rarely used for photographs or paintings, they are perfect for designs such as logos and illustrations. Vector files include .ai, .eps, and .dwg formats.
BAYCO GOLF RETURN AND WARRANTY POLICIES
RETURN POLICY
Bayco Golf strives for complete customer satisfaction at all times, however, in the unlikely event you are not completely happy with your purchase you may request a refund. All refund requests must be made within 7 days of delivery date. Please include your invoice number and name when contacting us. All items must be in a new/unused condition, in original packaging, and with all paperwork, parts, and accessories. Once the merchandise has been received and passed a satisfactory inspection, a refund will be issued onto the original method of payment and in the original currency (less the outbound and inbound shipping fees, where applicable). All returned items are subject to a $10 restocking fee.
Exchange of items is only accepted if the item is damaged or has manufacturer's defects (proof upon request is needed). In this case, Bayco Golf will cover the shipping costs. If the item cannot be repaired, we will replace the item and send it back to the Customer at our own expense.  Exception to items include:
– Clearance Items – these are discontinued items that we wish to sell out of. We regret to say that items purchased as "Clearance" are not eligible for returns or exchanges.
– Custom Items – Custom items cannot be resold and therefore we cannot accept returns on them. Please note that it is the Customer's responsibility to ensure clarity in communication and to approve provided proofs for custom work. However, if a mistake is made on our end, Bayco Golf will re-do and replace the merchandise at no expense to the customer.
– Any other item that cannot be re-sold, that includes but is not limited to items in used condition that do not qualify for our warranty or items reduced due to damage or defect and marked as final sale.
We reserve the right to warn, limit or decline returns or exchanges regardless if the item answers to all the conditions mentioned above. Notwithstanding, we may change or modify the agreement in part or completely without notice and we will not be held responsible for any loss or damage suffered as a result of such changes.
WARRANTY POLICY
Bayco Golf warrants products to be free from defects in materials and workmanship under correct use and proper applications for a period of six (6) months or one golf season from the original date of purchase.
Warranty requests must be made immediately upon finding a defect and proof must be provided. The suitability of whether the merchandise satisfies the conditions of the warranty are determined solely by Bayco Golf. After passing a satisfactory inspection and concluding that the damage falls under the warranty, Bayco Golf's obligations are limited to the repair or exchange of the item at no cost to the client. Should the merchandise not satisfy the conditions of the warranty, Bayco Golf reserves the right to refuse or otherwise limit the return/repair/exchange of the item. The warranty does not cover damages due to negligence, improper use or maintenance, weather conditions, theft, or natural disasters.